When you complete your quote, a hyperlink and code will be emailed to you (within 1 business day) to get your FREE tickets online.
We've a horse that my dad painted verdigris (green colour of aged copper). It serves as a mascot to greet individuals once they enter our backyard railway zone. My mother decorates it through the holidays. Shall we call him Harry the horse (after my great grandfather)? My mom thinks so. She desires to design a customized emblem for our toy train and plans to take photographs and make observe cards to offer as items.
The Walgrove Wildlands was conceived and constructed by mother and father, workers, students and volunteers from throughout Los Angeles. They work with the LAUSD, Enrich LA, S.M. Bay Audubon Society, Whole Foods, Loyola Marymount's CURes program, Frequent Imaginative and prescient, Surfrider Basis, Million TreesLA, Kids4Trees, Theodore Payne Native Plant Foundation, CA Native Plant Society, Venice Youthbuild and volunteer teams from UCLA, Pepperdine and Santa Monica Faculty, simply to call a couple of of their many partners and supporters. They owe probably the biggest debt of gratitude to their panorama architect, Ryan Drnek of Sodder Studio ; he'll be on hand to answer your questions.
Necessity is the mom of invention. Possibly it was the need to conserve water, or the need to preserve house, or the need to come up with some bright and smart for the Spring Greening Contest. But whatever it was, Nibha Jain and Srikanth Jalasutram's Inexperienced Dish Rack is designed to dry your dinnerware, or possibly something for that matter, and acquire drained water which can then water your herbs, in a killing-two-birds-with-one-stone trend.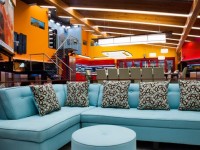 I've by no means thought of using a Food Saver, this has really caught my interest though. I only have a small veg garden which isn't doing too well, however I'll show this to my daughter who is doing better than I'm along with her veg. Additionally nice for when I've found some bargains at the market. I love the way you have laid this hub out so clearly, voted up!